In this blog post, we will discuss why Cellular Security Cameras are currently becoming more and more popular, and we will also show why our simHERO sim cards are the best choice for your device.
The importance of Cellular Cameras
There is a growing demand for security cameras as life activities have become more versatile and more people crave monitoring the things in life that are important to them. People need cameras for different sites such as for homes, wildlife, vacation home, dock for yachts, construction sites, factories, companies, campsites, and a lot more. However, it is not possible to set up Wifi in some of these places so that no connection can be established there. In these cases, Cellular Security Cameras are the best choice.
Aside from the device itself, the critical component for the outstanding performance of a security camera are the SIM cards which are compatible with the cameras.
The reason why you should choose a SIM card company for your end-users
1. Simpler processing for you as a camera supplier
Some camera suppliers suggest their end-users go to a local store to purchase a SIM card and to activate it. In some cases, the SIM cards don't work well with the cameras or the activation is complicated, which results in an after-purchase-service-hassle that you, as the camera supplier, will have to deal with. With a partner by your side, all these tasks are taken care of for you, and you do not have to deal with these problems.
2. Avoid a bad brand image
In addition, you do not want your brand image to be damaged because of a bad SIM connection. Difficult SIM activation or connection can compromise the performance of your cameras.
3. Happy Customers
Now think from your end users' perspective. After getting your device, they have to go to a local store to find a SIM and figure out themselves if the SIM card works with your device or not. Some SIM providers might not offer the best customer service; this can also frustrate your end-users and prompt them to write a bad review about your cameras. The support team at simHERO is always ready to answer all our customers' questions and always offer them the best solution.
Why you should choose simHERO as your partner
Get your free test sim cards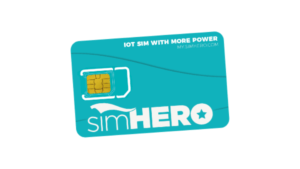 Imagine how easy it would be for your end users if they receive the whole package of your device along with the SIM that you have tested. This will save their time and energy. As a result, you get satisfied customers, who now also recommend your product.
simHERO offers camera suppliers test SIMs (trial kit) and relevant information as support, so you can ensure our SIM cards are compatible with your cameras.
In addition, simHERO offers a very easy SIM activation. There is no complicated process such as IMEI pairing needed. If you want to learn more about the activation of simHERO SIM cards, you can check out our blog post, which explains in a few simple steps how the activation works.
Get the strongest connection in your area
For a reliable connection, simHERO provides professional M2M SIM cards with multinetwork and non-steering characteristics, this means our SIM cards will automatically connect to the strongest network in the area, which ensures smooth connection. simHERO has global network coverage in 180 countries with 680 networks to help your global end users connect.
Customized business models, rate plans & billing methods
simHERO provides you with customized business models, rate plans, and billing methods to fit your use cases. You can choose simHERO Ultimate to manage the connectivity for your customers by yourself, or simHERO Prepaid to entrust us to provide connectivity to your end-users. Of course, we also offer intelligent software platforms for SIM management.
Get the most out of your camera
The technologies of security cameras are getting better and better and so is the quality of the images and videos. Of course, most users want to use this function, so it is becoming more and more popular to take Full HD pictures or record 4K videos. Of course, this also requires a higher data volume. simHERO offers our M2M sim cards, which are designed exactly for this topic. This means that your customers no longer need to worry about insufficient data volume.
Are you interested in joining the simHERO Partner program with your company?
Fill out this form and let's discuss your use case and the best simHERO IoT SIM card plan for your customers.